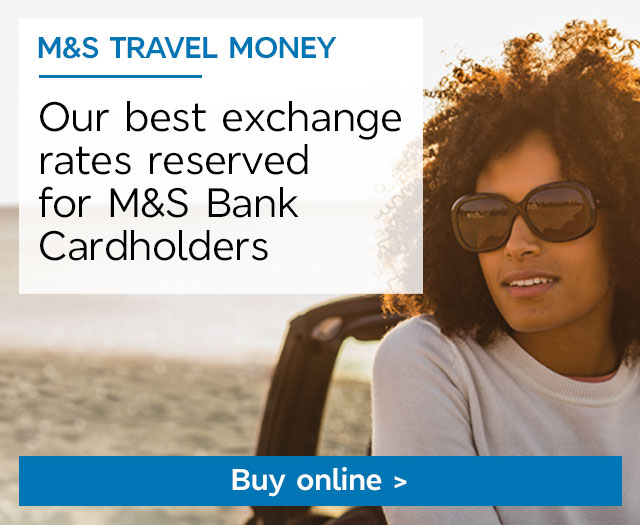 Travel Money Rates
M&S Bank Cardholder rates listed below. Standard rates are available to non M&S Bank Cardholders.
Please remember to bring your valid passport, photocard driving licence or EU ID card when purchasing your travel money in an M&S Bureau de Change.
Currency converter
I would like to convert £ into Mexican Peso
If you buy with M&S Bank Card:
M&S exchange rate of 1 GBP =
Otherwise convert to:
M&S exchange rate of 1 GBP =
How to buy:
Online - M&S Credit and Chargecard holders only
or call 0800 363 484
Lines are open Monday to Friday - 8am to 9pm, Saturday - 8am to 6pm, Sunday - 10am to 2pm. Calls may be recorded for our mutual security, training and monitoring purposes.
New calculation
Important documents
You may require Adobe PDF reader to view these documents.
Find us on Facebook
"Like" us on Facebook for exclusive news, offers, videos and competitions.
Packing Guide
How to pack light without compromising on style.
Ask Hannah
Have a question about M&S Bank's products and services? Just ask Hannah, our online virtual assistant.