5 skills you could explore this year
Looking to explore something new? Learning a new skill not only gives you a fresh hobby, it fills you with a sense of self-accomplishment. Whether you want to lead a healthier life or try something creative, here are 5 skills you could learn, all without disrupting your current lifestyle.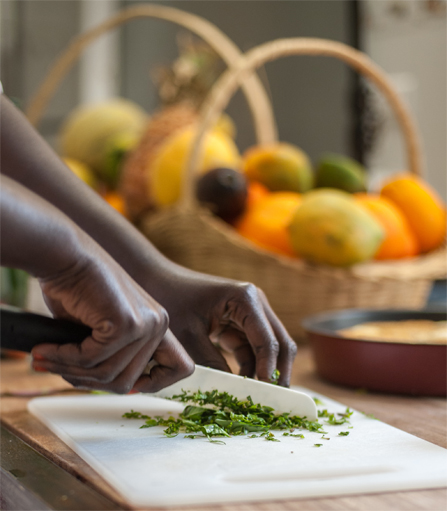 1. Command the kitchen… with a new culinary skill
Wish you could prepare your favourite cuisine at home? Or is there a culinary skill you wish you had? Whether you want to master the art of sushi, perfect your pastry, or temper chocolate for silky smoothness, it's never been easier to learn how. There's a range of classes you could attend, from casual courses to professional cookery schools – just pick the best option for you.
Top tip: Practice makes perfect. Why not host a dinner party to put your new skill to the test?
2. Get fit… by learning yoga
If you are looking to get in shape and unwind after a long day in work, then yoga could be for you. It will improve your posture, your strength and aid relaxation, all while burning calories. Plus, it's a great way to socialise as you'll meet lots of new people. Why not get a friend on board to participate in your new hobby?
Top tip: If you can't make a class every week, stick some music on and unwind in the comfort of your own home.
3. Capture the moment… by mastering photography
Photography allows you to document and capture lasting memories, as well as being a great creative outlet. Whether you want to learn via online tutorials, photography classes, or wish to pick it up through trial and error, the beauty of photography is that practice fits in with your lifestyle.
Top tip: Taking a great picture is all about composition, lighting and subject. As your skills develop, you'll get the most out of more expensive equipment, of course – but even a modest camera can capture a magical image.
4. Get web savvy… by blogging
Whether you're doing it for personal or professional reasons, blogging can impact your life in many ways. First up, it's a fantastic way to improve your writing. But it also draws on photography, design, coding and web admin – so setting up a blog is a great way to get a grounding in many essential digital skills.
Top tip: Choose something you're passionate about for your blog theme – this will make it easier to post regularly.
5. Expand your horizons… with a new language
Learning a foreign language will not only aid travel and look great on your CV, it can make you smarter. Recent studies have shown that those who speak more than one language have a better memory, better multi-tasking skills and become more perceptive. There are a number of great apps and courses which offer the flexibility of learning a language at home. Or why not attend an adult evening class, which will give the added opportunity of socialising with new people? It's never too late to learn a new language. Why not treat yourself to a holiday and put your learning to practice?
Top tip: Talk to yourself – it will improve your accent and help you gain confidence with the language.
And with all that considered, it's time to think about all the possibilities for the year ahead! How will you get there? Don't forget to share your plans for 2017 with us on Twitter and Facebook and make it your best year yet.
First published 19/01/2016, updated 05/01/2017