Simple ways to save for something special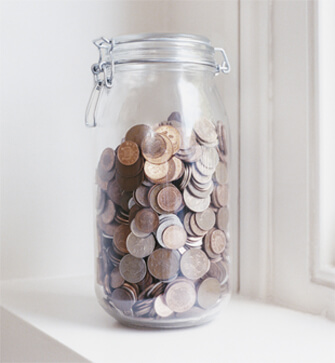 Planning ahead is exciting. It's great to have things to look forward to, and it makes good financial sense to know when you'll need a bit of financial flexibility.
However, as ambitions get bigger the cost can often grow too. That's why we've put together these handy saving tips to help you prepare your finances for expenses you might encounter along the way.
Big savings
Commuting
Fuel costs a lot. Public transport, on the other hand, offers an opportunity to make considerable savings, especially if you're savvy with season passes. If it works for you, National Rail offer Young Person and Two Travel Together railcards which can reduce your daily rail fare by a third.
If you've got a bike, and the relevant kit, cycling to work doesn't cost anything most of the time. By thinking about travel alternatives, you could be doing your bank account – and the environment – a big favour.
Diet
Vegetables are generally much cheaper than meat, and with veganism and vegetarianism more popular than ever, there are plenty of ideas out there to keep you satisfied on a meat-free diet. Switching just one meal a week to a vegetarian alternative could make a difference.
Lunch
Recent research calculated that workers spend on average just over £6 a day on lunch and hot drinks1. Instead, get creative with your lunchbox. Even last night's dinner makes a cheap and easy alternative a few days a week.
Switching
It's well worth looking at switching your utility provider(s) once in a while. It's easy to feel like those costs are set in stone, but you could be saving big money by switching to another provider. It's not the maze of admin you might be expecting, and you could free up some serious cash.
Smoking
We all know the arguments against smoking, but the fact that the average smoker spends over £8 a day on cigarettes is another one to consider. This can add up to nearly £3,000 a year2, which could be a very significant saving indeed.
Smaller stepsCoffee
Treating yourself to a cappuccino-to-go every morning might be a nice way to start the day, but at around £2.10 a cup3, it's a pricey routine to get into. Instead, invest in an insulated mug and make yourself a coffee before you head to work.
Tech
TVs, phones, tablets and games consoles are all quite expensive on their own, but when you consider the cost of subscriptions and downloads they can start to get out of hand. Are you really watching all those TV channels you pay for? Could your mobile phone bill be cheaper with a different plan or provider?
Standing orders
It's easy to forget about standing orders, especially if you don't regularly examine your bank statement. Take the time to review any standing orders you have set up, and cancel any that are not essential.
Counting the pennies
Turn it off
You could be spending up to £80 a year when you leave your TV or computer on standby4. Switch them off – you'll be thankful you did later.
Takeaways
With recent innovations in food delivery, you can have any cuisine delivered to your door without even making a phone call. Cutting down on takeaways makes a difference, but even collecting your food instead of using convenient apps will help you save money.
Gyms
When was the last time you used your gym membership? If you're going regularly, great, but if you're not there could be a cheaper package available that better suits your schedule.
Credit
Getting your credit cards in order could save you a lot on interest charges. Things could be much easier to manage when they're all in one place, so consider transferring your balances over to one card instead of several.
Just implementing a handful of these suggestions could make your goals for the year seem a lot more achievable.
Sources:
1 iZettle (30/06/15)
2 NHS Smokefree (27/01/17)
3 Money Advice Service (01/06/16)
4 Smart Energy GB (03/06/16)
First published 05/01/2016, updated 10/02/2017