Press Release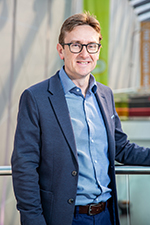 1 May 2019
M&S BANK APPOINTS PAUL SPENCER AS CEO
M&S Bank has announced that Paul Spencer has been appointed CEO of M&S Bank, following his appointment as interim CEO, M&S Bank, in February 2019. Prior to this, Paul was Chief Control Officer for HSBC's Retail Banking and Wealth Management business. He also previously held the position of CFO for Marks & Spencer Financial Services.
Stuart Haire, Head of Retail Banking and Wealth Management, HSBC UK, said: "Paul is a great leader and not only does he have significant retail banking experience, but he's also knowledgeable and passionate about the M&S Bank brand, having previously held the position of CFO for the business. I couldn't think of a better leader for M&S Bank."
Dame Denise Holt, Chair of M&S Bank, noted that Paul's appointment comes at a key time for the business, commenting: "Just last year we marked a key step in our transition from a financial services provider to a full service bank with the launch of M&S Bank Mortgages. Already this year, M&S Bank has been ranked one of the top three brands in the UK for customer service in the UK Customer Satisfaction Index*.
"In addition to evolving our products and services, this year we have also made a major step in our support for our community, becoming naming partner of the M&S Bank Arena, part of the ACC Liverpool and Exhibition Centre Liverpool, which has generated £1.6billion in economic benefit for the Liverpool city region.
"This is a really exciting time for M&S Bank, our customers, colleagues and community, and Paul is the ideal leader to take the business forward and ensure we continue to bring the trusted M&S brand values to banking."
Paul added: "I've shopped at M&S my whole life, from the suit I purchased for my first job interview, to the Christmas meal we prepare every year and, having started my career in financial services with M&S, I'm a huge advocate of the brand. I truly understand the high standards our customers have come to know and expect from M&S and M&S Bank."
-ENDS-
Notes to Editors:
* M&S Bank secured third place in the UK Customer Satisfaction Index (UKCSI), according to the latest figures from the Institute of Customers Services.
About M&S Bank
M&S Bank (the trading name of Marks & Spencer Financial Services plc) launched in 2012 on the foundations of M&S Money, which was established in 1985 as the financial services division of Marks and Spencer plc. In November 2004, HSBC bought 100 per cent of the share capital of Marks and Spencer Retail Financial Services Holdings Limited.
Today, M&S Bank operates as a joint venture arrangement between HSBC and Marks & Spencer, however, M&S Bank has its own banking licence and its own Board.
M&S Bank offers a broad range of financial products, including mortgages, current accounts, the M&S Credit Card, and a range of loans, savings and general insurance products, while its travel money offering boasts one of the widest ranges of currencies available on the high street. M&S Bank has 29 branches and over 120 bureaux de change located in M&S stores across the UK. M&S Bank services almost 4 million customers.
HSBC UK
HSBC serves c17 million customers in the UK and employs approximately 43,000 people. In the UK, HSBC offers a complete range of personal, premier and private banking services in-cluding bank accounts and mortgages. It also provides commercial banking for small to medi-um businesses and corporate and institutional banking services. HSBC Bank plc is a wholly owned subsidiary of HSBC Holdings plc.