Driving in Europe
Over 1 in 10 of us are planning to drive in Europe over the next year - if you're planning a trip are you prepared?
The first thing to know is that the traffic laws vary significantly from country to country.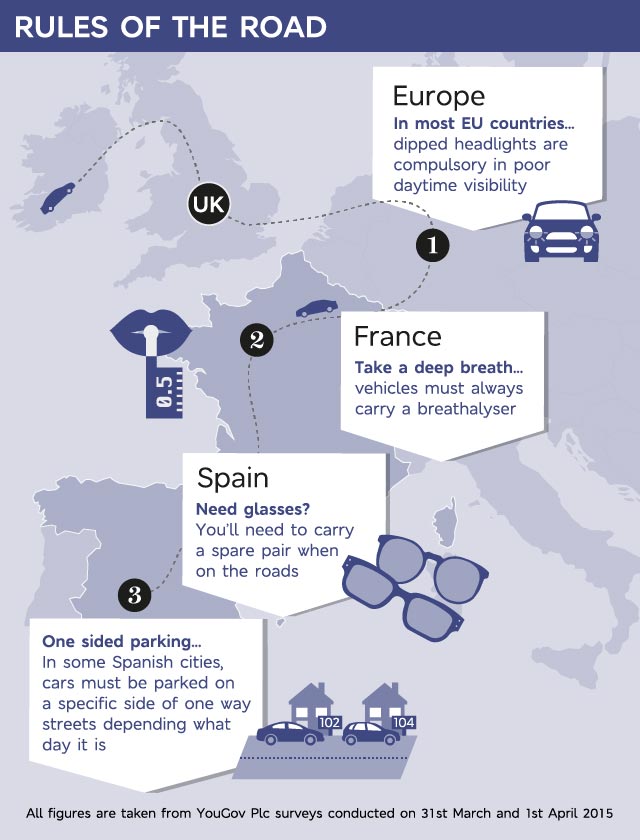 It's worthwhile checking the driving laws for the country/countries you are visiting before you set off. As a general rule, you'll probably need the following:
Driving in Europe packing list
GB sticker (unless your car has GB Euro symbol on the number plates)
Breathalyser
Hi-visibility reflective vests
Warning triangle (two if travelling to Spain)
First aid kit
Fire extinguisher
Insurance documentation
Driving licence
Car registration document
What to check on your car
Headlights - it's compulsory for UK vehicles to adjust their headlight pattern for Europe (excluding Ireland), to avoid dazzling other road users. This can be done simply in some cars by switching to 'Continental' driving, or by applying appropriate beam convertor stickers.
Also, remember to disable the speed camera location warning on your sat nav, as it's prohibited in most European countries and is illegal in some.
Are you covered to drive abroad?
According to a YouGov survey undertaken from 31 March - 1 April 2015, a quarter weren't covered, or didn't know if they were covered to drive in the EU.
Just like in the UK it's compulsory to have valid car insurance in Europe, the minimum is third party, so the level and comprehensiveness of the insurance is up to you.
Check your insurance policy before you leave to ensure that not only are you covered, but also you have the necessary documentation to travel. In parts of Europe you require a green card to prove that you've got insurance. It's worth asking your insurer to provide this, as it's widely recognised.
If in doubt, call your car insurance company.
What about breakdown cover?
Even the most reliable car is not immune to breakdowns. If your car does run into trouble, the costs for towing and repair in the EU could be much more expensive than you might think. So to avoid the stress and expense it's worth considering breakdown cover, just in case.
Some car insurance policies include breakdown cover in the UK and Europe as standard or - it could also be included as part of a bank account or with your car warranty. If you do already have cover, take the time to find out what it includes and what it excludes.
M&S Car Insurance includes EU cover for up to 90 days and premier cover also includes breakdown cover in Europe.
Published 22/09/2015