M&S Bank
Explorer
Your very own pocket
travel assistant
Download the app
for free now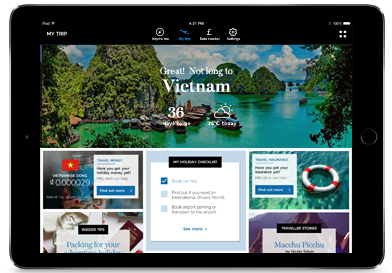 Plan your trip
Tell us where you're going
and we'll help you make
the most of your trip.
Including features such as:
Countdown to your trip
Insider tips
Pre-holiday checklist
Local guide
Phrasebook
Currency calculator
Be inspired
Find your next holiday destination
by browsing travel tips and
destination guides written by
travel experts and tailored
to your personal travel style.
Search. Plan. Enjoy.
M&S Bank Explorer is there for you before, during and after your trip.
Click here to see our terms and conditions