Best places for winter sun
For some, there's nothing better than cosy winters at home. For others, these colder months call for a much-needed break away from home.
Discover our top destinations for winter sun, in Europe and beyond:
December sun holidays
The Maldives
Popular for being the Indian Ocean's honeymoon spot, the Maldives offers plenty of sunshine all year round. With white sand beaches and clear blue water, it's the perfect spot for relaxation with an average temperature of 27C in December.
Dubai, United Arab Emirates
With temperatures hitting up to 40C in summer, Dubai is an ideal winter sun destination, especially if you want to avoid feeling too hot.
Temperature averages around 19/20C, allowing you to explore the glamorous Middle Eastern city. While you're there, don't forget to make your way up the record-breaking Burj Khalifa.
Want to visit a Christmas market? Find out more about the top Christmas markets to visit.
January sun holidays
Soufrière, Saint Lucia
Explore romantic coves, hike along a rainforest-covered volcanic cone and enjoy good food in the southwest of Saint Lucia.
Rainfall is low and temperatures can reach up to 29C in January but you're likely to experience a cool breeze, which can provide relief if you're planning on being outdoors all day.
Bali, Indonesia
Treat yourself to a luxurious stay in the stunning deep green jungle of Bali.
This charming island has beautiful beaches and classy spas. The flight time is around 16.5 hours from London, but you'll be greeted with temperatures of 27C upon arrival. You're also likely to see rain during January, but it won't dampen your day.
February sun holidays
Belize, Central Americas
Say goodbye to a gloomy February in the UK and make your way to the small and diverse nation of Belize.
Explore historic Mayan ruins, walk along national parks and scuba-dive in the Belize Barrier Reef. There's low chance of rain in February and temperatures can reach 30C.
Miami, United States
Eager to visit the US? In February, Miami is the ideal location for warm weather, beach days, and a fun atmosphere.
Experience an average temperature of over 20C and hit world-famous nightclubs at night.
Winter sun in Europe
Looking for sun a little closer to home? You don't need to travel the world searching for winter sun. The small island of Gozo in Malta, Spain's picturesque Cabo de Gata desert, or the historic location of Southern Cyprus are just a few places in Europe where you can also find sunshine.
Or, for a sunny city break, why not tick some European capitals off your list? Athens in Greece, Palermo capital of Sicily and Ankara in Turkey all offer some lovely mild-warm winter breaks.
Once you've decided on a winter sun destination, don't forget you can buy travel money at M&S Bank.
Published November 2022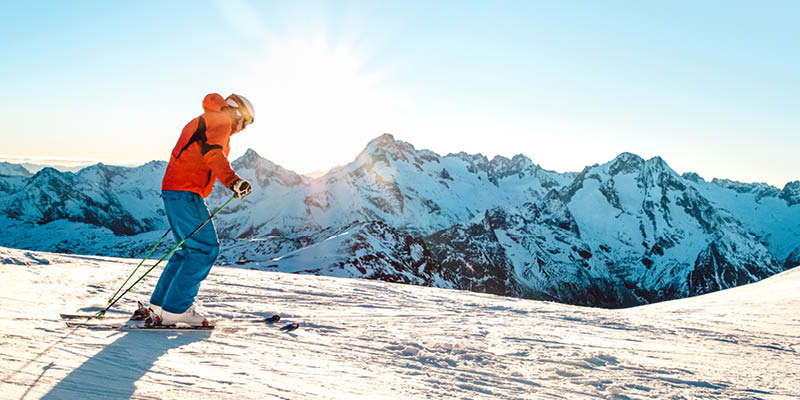 Thinking about a skiing holiday in Europe, North America or Asia? Use our guide to help you with your trip.