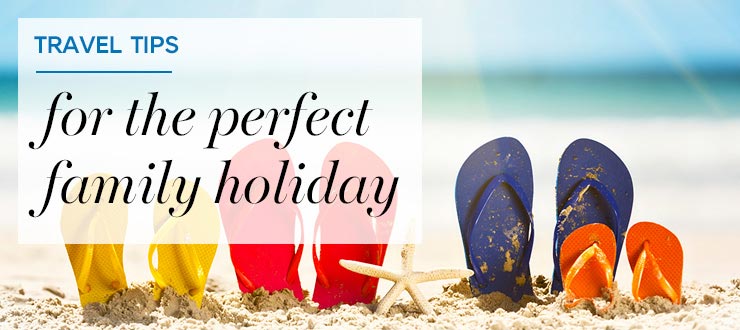 Holiday Travel Tips & Advice
With advice on holiday planning from first inspiration to just returned, take a look at the sections below.
STARTED LOOKING
The first question to ask yourself is what type of holiday does your family enjoy - city, beach, active, exploring? This will help you narrow down the focus of your search.
For example if your family are very active, then a holiday which includes activities as standard could be a good option. However if you enjoy exploring new places, then perhaps travelling through a number of different regions or countries, either as part of a tour, or by booking independently would suit you better.
Do some research
Once you've narrowed down the type of holiday you want, and where you could go, then it's time to hit the net to find out more about the area.
Take a look at travel websites, blogs and read other travellers' reviews. They give a candid account of the area's good and bad points, and can help you find great places to visit and stay.
When to book
If you have children in school then it's worth planning at least nine months ahead to take advantage of free child places, or low deposit schemes. Many travel companies, hotels and campsites offer early booking deals for summer during December - February.
If you're booking a flight with a low cost airline, the best deals are usually available if you book far in advance. If you have the flexibility, then travelling mid-week tends to produce the lowest cost fares.
Last minute deals can still be found. If you don't mind where you go, then booking the day before travel will give you the cheapest last minute deal. Though for some destinations, like the United States, this might not give you a massive discount as these holidays are not usually reduced.
HOLIDAY BOOKED
Once your holiday is booked, there are a few things that you should consider:
Don't leave it to chance - get insurance
You can get free or subsidised health treatment in most European countries with an EHIC card - a medical card that replaced the E111 form. A word of warning, the card expires every five years, so make sure that yours is in date, if it's not you can renew free on the NHS website.
The EHIC card gives you access to state run hospitals and GPs at the same rate as locals. The Department of Health advise you carry your EHIC card with you at all times to be covered. So remember to add it to your travel purse/wallet before you go. But this won't cover private medical healthcare or other costs.
So if you want medical cover no matter where you are travelling it is worth purchasing travel insurance, as this protects you from medical bills for receiving treatment. Also if you have travel insurance and use your EHIC card to reduce the cost of your medical expenses, some insurers won't ask you to pay the excess on your medical claim.
It's a good idea to book your insurance when you book your holiday, as many policies will then cover you in case your trip is delayed or cancelled.
Airport parking
If you're driving to the airport, book your parking in advance. As well as saving money, you'll also guarantee yourself a space. There are lots of airport parking sites on the internet - check how close the car park is to the airport, as some of the cheaper ones are a long bus ride away.
Spending abroad
For your holiday spending money it can help to have some local currency cash for tips, treats and unexpected expenses. You can combine your travel money with your M&S holiday shop, as many contain a bureau de change. Bureaus stocks a wide range of currencies (typically 40) and most are open in the evenings and at weekends.
It's a good idea to check how much cash your travel insurance policy covers you for. Try to take smaller denominations and split money between members of your party, leaving the rest in a locked safe where possible.
Credit and debit cards are convenient to use when you're abroad - your M&S Credit Card is accepted at over 33 million outlets worldwide, wherever you see the MasterCard logo. Plus you can still earn M&S points every time you shop with your M&S Credit Card abroad.
If you withdraw foreign currency abroad using your M&S Debit Card, you won't be charged a cash withdrawal fee. Read using your card abroad for further information about rates and fees apply for non-sterling (foreign currency) transactions.
Double check the expiry date on your debit and credit cards. If they're about to expire make sure you organise replacement cards to arrive before you leave. It's also a good idea to let your card provider know when you're planning to travel to reduce the chance of getting your card declined for an unusual transaction.
Car hire
Book in advance to get the best car hire deals. The internet is a good place to start your search. Some car hire companies add extras that don't appear on their online quote. So always double check that the price quoted is the actual price you'll pay.
ABOUT TO DEPART
Check the Foreign & Commonwealth Office website for the latest travel advice on your destination(s).
It's worth buying your foreign currency before you get to the airport as the rates are usually much better.
Take a copy of your card details and the phone numbers of your card providers, travel insurance claims and medical assistance lines, in case you need to contact them while you're away. Take one copy of these details with you, along with your insurance policy details and leave the other copy at home.
Make an effort with the language
When talking to locals they often appreciate it if you make an effort to use their language, even if it's only a few words...
FRANCE
Hello: Bonjour
Goodbye: Au revoir
Yes: Oui
No: Non
Please: S'il vous plait
Thank you: Merci
SPAIN
Hello: Buenos días
Goodbye: Adiós
Yes: Sí
No: No
Please: Por favor
Thank you: Gracias
ITALY
Hello: Buon giorno
Goodbye: Arrivederci
Yes: Sì
No: No
Please: Per favore
Thank you: Grazie
GERMANY
Hello: Hallo
Goodbye: Auf Wiedersehen
Yes: Ja
No: Nein
Please: Bitte
Thank you: Danke
PORTUGAL
Hello: Bom dia
Goodbye: Adeus
Yes: Sim
No: Não
Please: Por favour
Thank you:
Obrigado (if you're a man)
Obrigada (if you're a woman)
NETHERLANDS
Hello: Goededag
Goodbye: Dag
Yes: Ja
No: Nee
Please: Alstublieft
Thank you: Dank u wel
JUST RETURNED
If you've come back from your trip with foreign currency notes why not take advantage of our buy-back service? We'll buy back your leftover travel money at the buy-back rate on the day you return it, either in store or by post. That's all unused notes in any denomination we sell (excluding coins and Argentine pesos). Proof of purchase may be required so remember to keep your receipt!
M&S can also help you to donate your coins to charity through the Change4Change collection boxes in store.
Alternatively, if the coins are from somewhere you're likely to revisit, why not hang onto them until your next holiday. It's always handy to have small change!
Published 16/06/2016