Deaf, hard of hearing or speech impaired
British Sign Language Interpretation from home
The British Sign Language (BSL) Video Relay Service enables you to contact us using BSL. The service connects you with a qualified BSL interpreter via the webcam on your device, who will be able to relay your conversation to one of our Customer Services assistants.
You can use the service 8am-6pm Monday to Friday (excluding bank and public holidays) and it is free from your home computer or mobile device.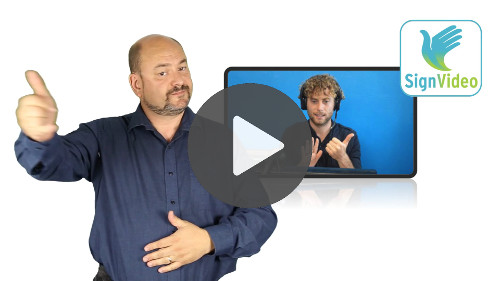 Use SignVideoUse SignVideo Open in new window
How do I use it?
The first time you use the SignVideo service you will need to download a Live Plug in. This makes sure that you have good video quality and that your calls are secure. Please follow the instructions once you are connected to the Web Access page. You'll only need to do this the first time you use the service.
When you click on the 'Use SignVideo' button it will open a new window where you will be connected to the interpreter via video. To make sure we can get you through to the right person at M&S Bank as quickly as possible please make sure you have all your details ready.
What do I need?
You will need a device with a webcam that meets the following requirements:
iOS devices (8 or upwards), many Android devices (4.4 upwards), PC (i3 or above) or Mac with a webcam.

IE9-11 or Firefox for Windows, Safari for Mac.

Bandwidth of at least 256 kbp/s upload and download (384kbp/s recommended).
Help and support
For troubleshooting and technical guidance on SignVideo's service, please contact SignVideo at help@signvideo.co.uk or call 0203 388 0771.
Your video call is relayed in real time using secure technology, however we may record the voice conversation between your interpreter and M&S Bank for quality and monitoring purposes.
British Sign Language Interpretation in branch
If you need an interpreter when you visit an M&S Bank branch for an appointment, eg a British Sign Language interpreter or a lip speaker, we can arrange for a qualified interpreter to attend.
This service is free of charge. Please let us know when you arrange your appointment, and allow at least two weeks for us to book an interpreter.
Text Relay
We accept calls from Text Relay. This is a useful service if you are deaf, hard of hearing or speech impaired.
Text Relay is a national telephone relay service which facilitates calls between text phone users and someone using a standard telephone.
If you wish to contact us using the Text Relay service please use the prefix 18001 with any of our standard contact numbers (eg 18001 0345 900 0900 for general banking enquiries). A Text Relay operator will join the call and assist by using a text phone to talk to you, while speaking to our representative.
You can find out more information about Text RelayText Relay Open in new window services.
Hearing loops in branch
We have installed hearing loops in all of our branches to improve the sound quality if you use hearing aids.
To use the hearing loop please turn your hearing aid to the T position.
If you need any help with the loop please ask one of our M&S Bank Assistants who will be able to help.
If you have any questions about using your hearing aid with hearing loops your doctor or audiologist is best placed to answer these.
Internet Banking
Our Internet Banking allows you to manage your account on the move or at home, whenever you like. M&S Current Account customers will need their physical or digital M&S PASS to sign in. Find out more about our Internet Banking service.