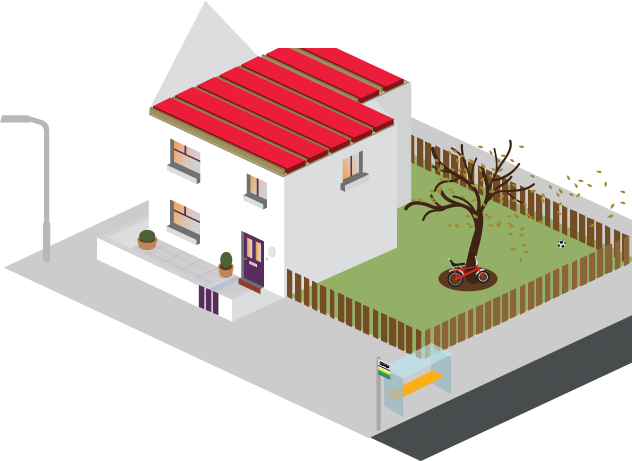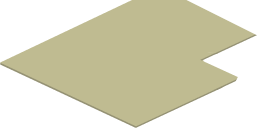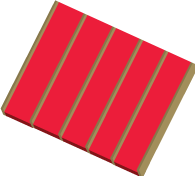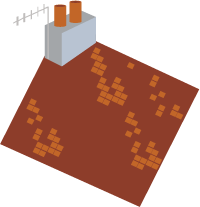 This article is best viewed on a tablet or desktop computer and may not display properly on devices with small screens.
Heat flows from warm areas to cold. In winter, the colder it is outside, the faster heat from your home will escape into the surrounding air.

Written by:

Laura Staples

Personal Finance Journalist

Additional Material by:

Tamsin McCahill and Joe Bond

A Long Term Investment

Last winter saw the biggest payments ever demanded by the main UK energy suppliers, with an average bill of £530 for each household.

Despite government action to tackle high fuel costs and simplify the energy market, prices are set to remain relatively high. So this year, why not spend to save? Keep warmer for less by investing in insulation for your home. It will more than pay for itself within just a few years – and in some cases, you can even have it installed free.

There are a few main ways to insulate your home, all of which will keep you warmer in the winter and cooler in the summer. The most effective ways are to insulate your walls and loft.

Loft Insulation

A home whose loft is not insulated will lose a quarter of its heat through the roof. But insulating it will save you around £175 a year and at around £100 to £350 to install, it will pay for itself within two years. If it's easy to access your loft, and it has no damp or condensation problems, it should be easy to install either by insulating the loft floor or the roof – depending on what you use the space for.

If you use it for storage, it makes sense to insulate between the floor boards and the joists. This prevents any heat from rising above the floor, however, so if you have a water tank or pipes up there, be sure to insulate them too to prevent them from freezing. But if your loft is used as a room, roof insulation will be more suitable. This is done by installing insulation between the rafters.

Insulating will save you around £175 a year and at around £100 to £350 to install, it will pay for itself within two years.

You could also consider replacing your old, single glazed windows with double-glazed ones to make your home warmer. Doing so could save you as much as £165 a year on your energy bills. However, this can be an expensive job. The average cost of replacing windows in a three-bedroom terrace property is £7,000.

But don't forget, if you have to pay for insulation yourself, you should still save some money by benefiting from a reduction in VAT charged by tradesmen and some eco-friendly home improvements – such as insulating walls, floors and lofts – qualify for a tax discount.

For a full list,visit www.hmrc.gov.uk.

Wall Insulation

Installing this in a typical gas-heated, semi-detached home with three bedrooms can cost between £100 and £350 but it could also save you up to £135 a year on energy bills

If you live in a house with 'cavity walls' – walls comprising two layers – the gap between the two can be insulated. This is done by blowing a filling between the inner and outer wall layers, trapping air in the cavity and preventing as much as a third of your home's heat escaping.

Installing this in a typical gas-heated, semi-detached home with three bedrooms can cost between £100 and £350 but it could also save you up to £135 a year on energy bills, according to the Energy Saving Trust. This means that it could pay for itself within three years. You could also reduce your carbon emissions by around 550kg of CO2 every year.

Properties with solid walls, however, let out twice as much heat as those with cavity walls. They are insulated by fixing a layer to the outside walls of your house, which is then covered in special cladding. It's like putting a jumper on your house to keep the heat in. It's more expensive than cavity wall insulation as it can cost thousands, but it can save you around £475 a year on your energy bills.

Our Top Tips

for keeping your home warm

Radiator

Tuck your curtains behind your radiators to keep heat in the room.

Doors and Windows

Little things can make a difference – install key-hole and letter-box covers and draught strips for windows and doors.

Portable Heaters

Avoid using portable heaters as a main heat source. They are good for a top-up, but using them for a long period of time is very expensive.

Heating

Turning your central heating down by one degree could cut your heating bills by up to £50 per year. Set your heating to go off 30 minutes before you leave the house, and come on again 30 minutes before you expect to return. Get an 'A' rated central heating pump and you could reduce your electricity consumption by up to 100kWh per year.

Radiator

Avoid drying washing on radiators. It makes your heating system work harder, and could create a damp problem.

Boiler

Service your boiler and gas appliances regularly. This will ensure they're working safely and efficiently. If your boiler is over 15 years old, you should think about replacing it with a new more efficient model. It will save you money in the long run.

Did You Know

Your house could be losing a third of its heat through your walls if they aren't insulated? Or that a quarter leaks out through the roof?

Q) Do I need planning permission?
A) No, not for cavity wall or loft insulation.

Q) If I don't own my home, will I still be able to have insulation?
A) If you live in a rented property, you will need to obtain your landlord's permission in writing.

Q) Can insulation cause any damp problems in my home?
A) No. Insulating materials used are made from natural fibres and are breathable.

FAQs

I didn't have any loft insulation. My gas bill has literally been cut in half since getting it insulated!

Nicola, Manchester

We're happy we insulated

Peter

Peter Myall, 74, is a retired engineer who still delights in rebuilding vintage racing cars and racing engines.

He had cavity wall and roof insulation installed two years ago in his house in Crowborough, East Sussex. He has noticed a marked difference in the warmth of the house, "especially on the first floor."

"If I turn it off and go out, when I come back, most of the heat is still in there." With his engineer's hat on he warns, however, that it is important to have the house properly surveyed before insulation is installed, as some houses, even those with cavity walls, are not suitable.

His bills, he says, have not fallen, but have remained flat – which considering the recent gas price rises, means it was definitely worth it.

Dave and Lorna

Dave and Lorna Evans are very happy they installed loft and cavity wall insulation in their four-bedroom detached home in Northwich, Cheshire.

Since it's been installed, Lorna says: "Our home is less draughty, and definitely warmer. Our bills have reduced by about £15 a month, so we're really pleased about that. We were so happy to know that we are not only saving the environment, but saving money at the same time."

We were so happy to know that we are not only saving the environment, but saving money at the same time.

Glenda and Peter

Glenda Revell is a retired property manager. She and her husband Peter received a grant to install cavity wall insulation in their large semi-detached house in Hayes, Kent, towards the end of last winter: "We had a new extension put on about 20 years ago and that part has always been so warm compared to the rest of the house," she says.

"Then some neighbours had insulation put in and were very pleased with it. I can feel the difference, but we haven't been through a full winter yet."

There are various different schemes across the UK offering free and subsidised insulation.


Alternative ways to

stay warm

Share your woollies

London-based sustainable living charity Otesha have a smart way to keep warm at work – a woolly jumper box! Have one in your home or office for when you get cold and it'll dampen down those air-conditioning disputes – the most common cause of most workplace whining. If you turn the heating down by one degree as a result you'll save around 300kg of carbon and around 10 per cent of your heating costs, too.

Get on that exercise bike

Is it too cold to go outside? Get on your bike and pump that heat around your body – it's worth a few degrees on the central heating thermostat!

Make like a kangaroo

Fed up with having to leave your coat open when you're wearing your baby in a sling? Invest in a Peekaru, an all-in-one sling and fleece jacket that keeps both of you warm. There's something so cute about seeing your baby's little face peek out, as if they were a joey in a pouch.

Get a sleeping bag suit

Who'd have thought there'd be an item of clothing even less flattering than a pair of nylon slacks with an elasticated waist? A Cocoonz is not something you'll want to be seen in by anyone other than your nearest and dearest but you will at least be as warm as you are unfashionable.

Alternative ways to

stay warm

Stage a fire festival

A dazzling fire show should definitely keep you warm and toasty, although maybe take a flask of hot chocolate just in case. Each year masked torchbearers symbolising the sun do battle with the cold winter in the Imbolc pagan festival, held in Marsden, Huddersfield. Luckily for us, they defeat Jack Frost every time.

Do some bus stop aerobics

Feeling a chill while waiting for the number 37? Don't just stand there gawping at the traffic, get moving with some bus stop aerobics.You may feel silly, but all the squatting, clenching and running on the spot will soon have you working up a sweat.

Buy a beard hat

If a balaclava just looks too scary (unless you were going for bank robber chic) a beard hat may be for you. Not only does it do the same job as a balaclava, it will also brighten up everyone's day. With detachable moustaches, you can mix and match your styles of facial hair, too.

Refuse a hot toddy

Drinking a hot toddy (made with equal amounts of boiling water and whisky with honey, lemon and cloves) could actually make you feel colder. Alcohol actually lowers the body's core temperature, according to the experts at the British Dietetic Association. Have a hot chocolate instead!

Huddle like penguins

If a sleeping bag suit hasn't already got you doing a winter waddle, take a tip from the penguins – who huddle together to keep warm in the Antarctic. Your partner is on average equivalent to a 100W heater according to scientific calculations. Is it any wonder that cold snaps in January are followed by baby-booms in the autumn?

Get it now

A new government initiative could help you spread the cost of making your home warmer.

Useful websites

The Green Deal allows you to make energy-saving improvements to your home, but avoid paying any high up-front costs which could be associated with insulation, heating, draught-proofing – even double glazing or renewable technologies such as solar panels.

It works by allowing you to cover the cost of the work in instalments through your electricity bill, meaning you enjoy the benefits of the extra efficiency as you pay it off. For more information, see the links on the right.

The views expressed here are solely those of the author,
and do not necessarily reflect the views of M&S Bank.